Soul of Seoul, FC Seoul
FC Seoul, the best football club in Asia.
scroll
fc seoul matches
Schedule
fc seoul club
Seoul World Cub Stadium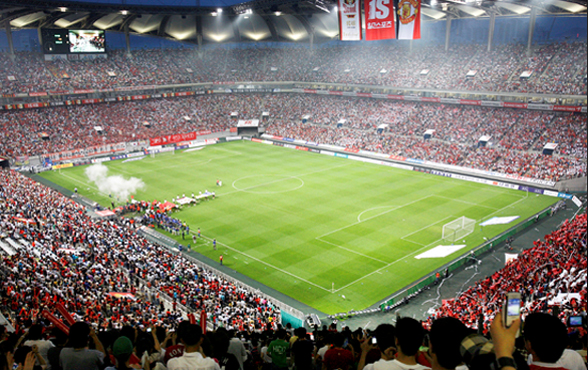 FC SEOUL settled in
Seoul World Cup Stadium in 2004.
Since 2002 FIFA World Cup, the stadium has been developed as a complex for the citizens.
So now the stadium is not only recognized as football stadium but also as a sports, culture, shopping complex.
| Section | Contents |
| --- | --- |
| Location | 515, Seongsan-dong, Mapo-gu, Seoul, Korea |
| Land Area | 216.712 (66,555 pyeong) |
| Building Area | 59,777 (18,082 pyeong ) |
| Total Building Area | 155,674 (47,091 pyeong) / 1 Underground Level, 6 Stories High (Max Elevation at 49.4m) |
Section
Contents
Capacity
Total Seats : 66,704 (VIP Seats 816, Press Seats 754,
75 Sky Boxes included)
Roof Installation
90% of Total Seats (100% of VIP, Press and Disabled Seats)
Parking Capacity
3,601 Total Spaces (1,160 in Stadium,
2,441 in Park Parking Lot)
fc seoul team
Assistant Manager

YOU KYUONGYOUL

Fitness Coach

HWANG JIHWAN
Date of Birth

1996-08-12

Height

173cm

Weight

70kg

Joined FC Seoul

2021

Date of Birth

1991-05-28

Height

188cm

Weight

81kg

Joined FC Seoul

2021

Date of Birth

1985-07-10

Height

182cm

Weight

75kg

Joined FC Seoul

2015

Date of Birth

1999-02-05

Height

178cm

Weight

73kg

Joined FC Seoul

2018

Date of Birth

2001-03-30

Height

176cm

Weight

69kg

Joined FC Seoul

2020

Date of Birth

2002-01-01

Height

177cm

Weight

71kg

Joined FC Seoul

2021

Date of Birth

2001-01-08

Height

183cm

Weight

76kg

Joined FC Seoul

2020

Date of Birth

2000-01-16

Height

180cm

Weight

70kg

Joined FC Seoul

2019

Date of Birth

1994-02-22

Height

175cm

Weight

73kg

Joined FC Seoul

2021

Date of Birth

2002-07-20

Height

178cm

Weight

72kg

Joined FC Seoul

2021

Date of Birth

2003-03-26

Height

178cm

Weight

76kg

Joined FC Seoul

2021

99FW

GABRIEL BARBOSA AVELINO

99FW

GABRIEL BARBOSA AVELINO

Date of Birth

1999-03-17

Height

195cm

Weight

93kg

Joined FC Seoul

2021
Date of Birth

1988-06-05

Height

192cm

Weight

86cm

Joined FC Seoul

2014

Date of Birth

1999-12-09

Height

175cm

Weight

67cm

Joined FC Seoul

2020

Date of Birth

1989-01-24

Height

189cm

Weight

75cm

Joined FC Seoul

2020

Date of Birth

1988-03-10

Height

170cm

Weight

65cm

Joined FC Seoul

2004

Date of Birth

1989-06-22

Height

175cm

Weight

69cm

Joined FC Seoul

2021

16MF

CONNOR EDWARD CHAPMAN

16MF

CONNOR EDWARD CHAPMAN

Date of Birth

1994-10-31

Height

188cm

Weight

83cm

Joined FC Seoul

2021

26MF

ALEKSANDAR PALOCEVIC

26MF

ALEKSANDAR PALOCEVIC

Date of Birth

1993-08-22

Height

180cm

Weight

70cm

Joined FC Seoul

2021

Date of Birth

1988-09-21

Height

172cm

Weight

63cm

Joined FC Seoul

2011

Date of Birth

1999-10-11

Height

181cm

Weight

70cm

Joined FC Seoul

2020

Date of Birth

2002-01-27

Height

173cm

Weight

70cm

Joined FC Seoul

2021

Date of Birth

1998-04-15

Height

186cm

Weight

77cm

Joined FC Seoul

2020

Date of Birth

1998-09-16

Height

183cm

Weight

74cm

Joined FC Seoul

2019
Date of Birth

1995-07-22

Height

183cm

Weight

80cm

Joined FC Seoul

2014

Date of Birth

1997-04-09

Height

190cm

Weight

88cm

Joined FC Seoul

2020

Date of Birth

1998-06-30

Height

177cm

Weight

63cm

Joined FC Seoul

2019

Date of Birth

1998-03-20

Height

173cm

Weight

65cm

Joined FC Seoul

2017

Date of Birth

1998-03-07

Height

180cm

Weight

73cm

Joined FC Seoul

2020

Date of Birth

1992-05-01

Height

186cm

Weight

77cm

Joined FC Seoul

2015

Date of Birth

2002-06-17

Height

190cm

Weight

84cm

Joined FC Seoul

2021

Date of Birth

1999-04-29

Height

190cm

Weight

88cm

Joined FC Seoul

2021

Date of Birth

2002-07-28

Height

174cm

Weight

70cm

Joined FC Seoul

2021
Date of Birth

1989-05-25

Height

194cm

Weight

84kg

Joined FC Seoul

2011

Date of Birth

1991-08-30

Height

195cm

Weight

90kg

Joined FC Seoul

2014

Date of Birth

2001-01-21

Height

190cm

Weight

85kg

Joined FC Seoul

2019
fc seoul ticket
Ticket Prices
Booking Guide
ARS 1588-7890
FC SEOUL 02-376-3251
Cancel reservation and Refunds
UNIT : WON
Stand
Price
Discount
Asahi Sky
Pub Table
Adult(Over 19)
₩35,000
Unlimited
Asahi Beer & Popcorn
Provided
Youth Ticket(13~18)
₩25,000
Children's Ticket(Under 12)
₩20,000
Asahi Sky
Pub Seats
Adult(Over 19)
₩30,000
Youth Ticket(13~18)
₩20,000
Children's Ticket(Under 12)
₩15,000
VIP Table
General
₩30,000
Family Table
Adult(Over 19)
₩25,000
Youth Ticket(13~18)
₩20,000
Children's Ticket(Under 12)
₩15,000
West stand
(Reserved seat)
Adult(Over 19)
₩20,000
East stand
(Reserved seat)
Adult(Over 19)
₩16,000
Youth Ticket(13~18)
₩10,000
Children's Ticket(Under 12)
₩6,000
East, North stand
(Non-Reserved seat)
Adult(Over 19)
₩14,000
Youth Ticket(13~18)
₩7,000
Children's Ticket(Under 12)
₩3,000
South stand
Adult(Over 19)
₩14,000
For Away Teams
Youth Ticket(13~18)
₩14,000
Children's Ticket(Under 12)
₩3,000